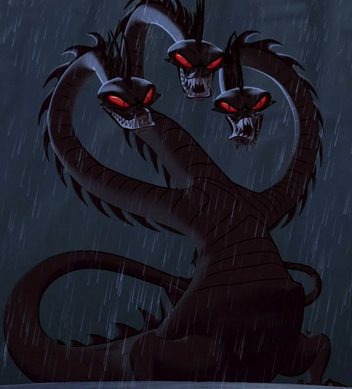 The Hydra was a giant serpent-like monster that appeared in the Disney film, Hercules.
In the Disney movie, The Hydra was a minion of Hades who was commanded to kill Hercules. In the epic battle, Hercules cuts off The Hydra's head by slicing at its throat from within.
The Hydra was not dead yet, and three more heads grew in its place. Hercules continued to cut off the heads in a vain attempt to kill The Hydra. Apparently, it was a jungle of heads, and Hercules seemed to be unable to kill it. Eventually, he came up with a plan, and tricked The Hydra to cause a landslide. The landslide crushed The Hydra, killing it permanently.